How much of your life is PAIN costing you?
Pain is a fact of life for most of us. If you are struggling with pain and you have tried all of the other therapies, you will be very happy to know that there is now a device that targets the scar tissue adhesions that are the underlying cause of a myriad of diagnosed and undiagnosed pain. The other good news is that this therapy is fast, painless and in many cases lasting. Treatment times are only a few minutes and many soft tissue disorders can be cleared up within 3 to 6 sessions.
More good news…We are now offering this affordable treatment at Gallagher Chiropractic and Wellness Center in Charlotte, NC. Rapid Release Therapy is a revolutionary pain relief treatment. This device uses high frequency compression waves that resonate with scar tissue adhesions. Scar tissue adhesions are dense leftover tissue from repetitive stress, injury or surgery, that leaves "spot welds" on tissue that shouldn't be connected. This can result in chronic pain and limit your range of motion.
How does Rapid Release Technology Work?
You've heard of how an opera singer can shatter glass by hitting a high pitch note? That's because the opera singer found the mortal oscillating rate of the glass. Meaning, there is a frequency that when achieved, has the right vibration to shatter glass. The Rapid Release Technology has found the frequency that breaks up scar tissue.
When scar tissue is activated by vibration waves at an optimal frequency of 170 hertz, the scar tissue begins to break up. This vibration is called Scar Tissue Therapy, and is a safe, painless, and effective method of treatment for several musculoskeletal conditions including:

The Technology
Rapid Release Technology uses the power of vibration to break up painful adhesions within the body to release muscles and nerves, allowing the body to return to an optimal level of health.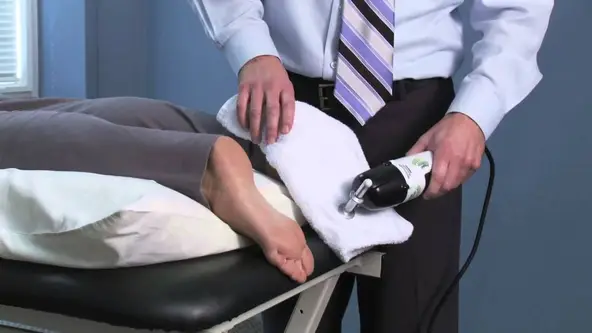 Scar Tissue Therapy provides patients with a quick, painless, and lasting treatment option which is effective and free from side effects. Most patients enjoy immediate and lasting relief from symptoms after a Scar Tissue Therapy session. The duration and number of treatments necessary, as well as the level of relief experienced, varies from patient to patient, depending on the specific medical condition and its severity. All patients, however, do experience some level of relief thanks to Rapid Release Technology.

Schedule an Appointment with Our Chiropractors Today
If you suffer from pain and discomfort due to a musculoskeletal condition like those listed above, CLICK HERE to schedule an appointment with one of our chiropractors today, and find out whether Rapid Release Technology and Scar Tissue Therapy are right for you.
To experience maximum health benefits and pain relief, our chiropractors recommend patients receive treatments with Rapid Release Technology in conjunction with a regular routine of additional holistic services offered at Gallagher Chiropractic and Wellness Center. After performing a physical examination, reviewing patient medical history, and discussing symptoms with the patient, our chiropractors will design and recommend a unique wellness plan to best treat that patient.
Low Level Light Therapy in coordination with Rapid Release Technology has been able to give even more effective results.
Wellness plans are tailored to each patient's specific medical conditions and needs, and are developed from a complete menu of holistic services including Chiropractic Care, Massage Therapy, Acupuncture, trigger point Dry Needling, Low Level Light Therapy, Kinesio, and more!
---
Find Out How Rapid Release Therapy Can Help You With Pain
Dr. Gallagher and his staff have been helping people get healthier for over 20 years. At Gallagher Chiropractic and Wellness Center, we have a unique philosophy and approach, customizing each treatment to the specific needs of the individual patient. Current patients can CLICK HERE to schedule your appointment online. New patients can schedule HERE. We look forward to being your partner in your journey to greater health…naturally. Tell any of your family or friends that can benefit from this technology. They will be glad you did.

Gallagher Chiropractic and Wellness Center is located at 7810 Ballantyne Commons Pkwy #101, Charlotte, NC 28277.

---
Gallagher Chiropractic and Wellness Center Services
The services we offer to treat the majority of conditions are as follows:
---